SARVRA News
We aim to keep you up to date and informed about what's happening at SARVRA, changes to retirement living policies in government and industry, members meetings and any other events happening that you may be interested in attending.
Our member newsletter or SARVRA NEWS is distributed four times a year in January, April, July and October by email or standard mail. Below is a sample of the information we provide in our newsletters.
Become a member today and help us to help you live a long and satisfying lifestyle in your retirement village.
Latest News
---
Overview of SARVRA AGM held Monday 22 August 2022 At the Flinders St Baptist Church.
This summary will not go into detail of the procedures of the meeting and the reports of the President, Treasurer and Auditor together with the election of Management Committee Member details as they can be viewed in a copy of the minutes which are available for members to read. To obtain a copy please email the secretary@sarvra.asn.au and request a copy of the AGM minutes August 2022.

During the meeting SARVRA recognised and awarded certificates to valuable village representatives in recognition of their years of service as volunteers assisting the Management Committee in collection of membership fees and ensuring their fellow village residents were kept informed of important information relating to them especially during the Pandemic isolation period.
The representatives awarded were:
Brian Appleby of Grange View Estate 10yrs Service
Maureen Atkinson of Seven Oaks Sterling 10yrs Service
Joan Crowther of The Elms Lifestyle 15yrs Service
Due to an unintentional oversight on the part of the President during the meeting another very important volunteer from the Management Committee Diane Cannan from Acacia on Marshall who had served as the Committee secretary for 8 Yrs was overlooked in the presentation of the awards. The President Roger Adamson unreservedly apologises to Diane for this oversight. Diane was a very valuable member of the organisation and spent many hours each day and week controlling our Data Base and communicating with our valuable Village representatives. The Committee thanks Diane for all her efforts and wishes her well for the future.
Thanks were also given to Bob Ainsworth our immediate past President. Bob had been a member of the SARVRA management committee since 2014, and served as President since 2016. He was not only involved in the SARVRA submissions leading to the changes of the Retirement Villages Act 2016, but has been heavily involved in the current submission for the review of the Act. Bob appeared before a joint house committee that succeeded in obtaining significant changes to the SA Water billing practices but also changes to the methodology used by the Valuer General in the way Retirement Villages are valued that have produced savings for village residents. Unfortunately, Bob had to retire in late 2021 due to medical issues and the Committee felt his Service should be rewarded with Life Membership of the organisation, and this was granted by a unanimous vote of members at the meeting as required under our constitution.
It had been hoped the Health Minister the Hon. Chris Picton would address members but due to a late change to the timing of cabinet meeting he had to offer an apology, but did send a video for members to view. His speech contained assurances that the government are keen to see changes made to the Act to bring about a better balance between operators and residents and that they are looking at a number of issues. He also reiterated that the government will be interested in talking with SARVRA on any proposed changes before they are put to parliament.
Vanessa Clarke from the Office for Ageing Well (OFAW) spoke on the current position of the Act review and investigations into matters raised in the recommendations of PEG consultants report to government following submissions by industry stakeholders.
The main points of her address are listed below:
The Minister has requested a range of options for consideration that go beyond the PEG report. These include statutory repayment provisions, treatment of capital items & funds, recurrent charge increases and the need for greater transparency. When we receive direction from the Minister on these matters we will undertake round table discussions and targeted consultation to feed into the drafting process.
We are progressing to collate as much info as possible and meeting with the Dept of Innovation & Skills, the Property Academy and DCM Institute to explore minimum qualifications for village staff, certification and possible registration. We are looking at base skills and the possibility of additional modules of education.
We are also looking at 'fit and proper' persons tests and the requirement to meet certain standards before being able to work in a village.
We are undertaking an audit of disclosure documents which have been issued over the past 18 months – to identify common errors and whether the required information is being provided in a clear manner, and also whether operators understand their obligations here. So far we have identified a number of common issues which will result in changes to ensure that fees and charges cannot be hidden in the contract.
We're writing more information sheets, based on complaint trends and common requests for information – ie, how to apply for an exemption, options for meetings in villages, exiting a village etc
We are also transitioning our Register to an online platform which will be searchable by everyone. Not all information will be publicly available. Depending on what legislative change occurs, we may be able to include enforcement action, SACAT outcomes, resale prices, time on market etc.
Once the draft legislation is written, we will undertake widespread consultation – forums and roadshow. The feedback will be used to adjust the draft Bill before presentation into Parliament. (I cannot see this happening this year).
---
Sarvra Members meeting February 2022
Review of the retirement village act, 2016. Meeting hosted at the Flinders St Baptist Church, President - Roger Adamson.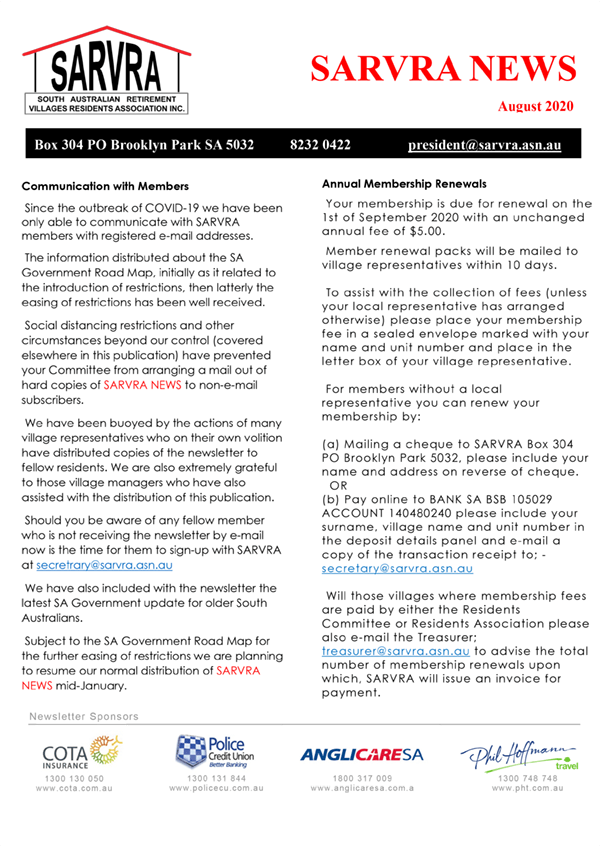 Find out more about SARVRA